How the Diesel Testing Kit Works
Diesel Testing Kit with Lateral Flow Device Technology:
Authentix' breaktrough, patented, antibody-based technology was developed to recognise any form of illicit mixing of Diesel with Illuminating Paraffin.
How to use a diesel test kit:
Remove the dropper bottle lid and using the pipette provided fill the dropper bottle to the neck with diesel.
Replace the dropper bottle lid.
Shake vigorously for 1 minute.
Allow to settle until a distinct aqueous layer is visible.
Remove the LFD – diesel test from its packaging discarding the small pipette to waste.
Flip the extraction dropper bottle cap and gently invert.
Apply 5 drops to the well of the LFD.
Allow the LFD to develop for 5 minutes.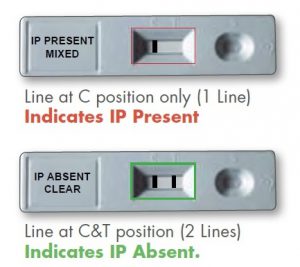 Line at C position only (1 Line) – Indicates IP Present.
Line at C&T position (2 Lines) -Indicates IP Absent.
Note: The C line acts as a control and should always develop. In the unlikely event that this does not occur, the device has failed, and the test should be repeated using a fresh device.
How Paraffin is detected in Diesel?
When Diesel is tested any Illuminating Paraffin (containing the South African Revenue Service – Marker) mixed into the Diesel will cause antibodies to be released and bind specifically to the marker in the sample. A line (1 line) at the C position will appear on the diesel test kit indicating that the Diesel has been mixed with Illuminating Paraffin.
How will you recognize clean Diesel?
When Diesel is tested that has not been adulterated/mixed with Illuminating Paraffin the antibody/sample solution is drawn across the membrane. As there is no marker present in the sample, the antibodies are still free to bind to the marker which is laid down. Lines (2 lines) at the C&T position will appear on the diesel testing kit indicating that the Diesel is clear and has not been adulterated with Illuminating Paraffin.